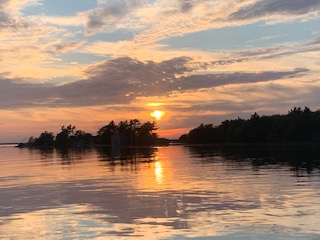 Welcome to beautiful Honey Harbour, home of Georgian Bay Islands Water Taxi. Serving Midland, Honey Harbour, Georgian Bay Islands National Park, and Cognashene areas. We will take care of all your water taxi needs. Come for a boat ride with us and enjoy beautiful Georgian Bay.
Our water taxi is the perfect way to explore the Georgian Bay Islands. Whether you need access to a campground in the area, heading to a real estate listing or Airbnb, or simply spending the day in and around Georgian Bay Islands National Park; we can help.
We are your best option for accessing Georgian Bay Islands National Park (GBINP), Giants Tomb, and many other areas of Southern Georgian Bay. If you need help to get your boat home safely, we also offer a "double cab" service.
In addition to our water taxi allowing for up to 6 passengers, there is also room for all of your camping and biking gear, as well as any pets that are traveling alongside you.
Above all else, your comfort and safety is our main concern. For that purpose, life jackets will be provided for all passengers. Moreover, we also offer wheelchair accessibility to and from your destination.
Most importantly, our skipper is fully insured and has been navigating the waters of the Georgian Bay Islands his entire life.
In conclusion, we would love to assist you in exploring this beautiful area of the world. For availability, pricing, or any other questions, please feel free to contact us for more information.
Conversely, simply text or call Duncan at the number below.